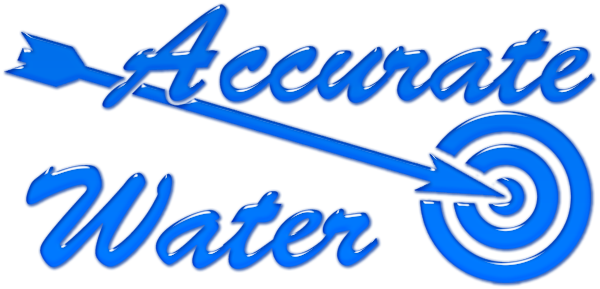 9701 N Navarro St #C Victoria, TX 77904

(361) 576 1501
About Our Custom Water System
Utilizing treatment methods such as Aeration, Filtration, Ultra-filtration, Superchlorination-Dechlorination, Ion-Exchange, Reverse Osmosis, and others, we build high-quality custom water treatment system unique to each environment.
Residential
A typical residential system is designed to correct the problem of hardness in the water. Hardness, or Calcium Carbonate, will precipitate out of solution and cause major problems for a water heater, dish washer, toilet, shower, sink, and refrigerator. Softening the water protects and extends the life of your household appliances. We also offer an under-sink reverse osmosis unit that further purifies the water, making it ideal for cooking, drinking, and ice. Our licensed class III Water Treatment Specialists can comply with any permit or inspection process that may be required for the installation of new water treatment equipment.
Commercial
A typical commercial system is designed to correct aesthetics and maximize economy. Iron, Monochloramines, Sulfides, and Suspended solids can render water unpalatable. These problems can be corrected through the implementation of an automatic filtration system that can accommodate larger demands.
Industrial
A typical industrial system is designed to purify water to be used for chemical processing or in process equipment. Dissolved Ions can interfere with certain chemical reactions, decreasing over-all efficiency and increasing chemical cost. We manufacture heavy duty, low-maintenance reverse osmosis systems that can purify water to 0.003% of the original ion concentration. Accurate Water is fully insured and can work with an engineer to design large systems.
Public Water Supplies
Accurate Water public water system operators uphold and advance the integrity, honor, and dignity of their profession by using their knowledge and skills for the enhancement of human welfare; honestly, impartially, and faithfully serving the public and their employers; striving to increase the competence of the water industry profession; holding paramount the safety, health and welfare of the public during the performance of the their professional duties; acting in professional matters as faithful agents or trustees, and avoiding conflicts of interest; and continuing their professional development throughout their careers and providing opportunities for the professional development of other public water supply system operators under their supervision.
Accurate Water is charged with keeping a public water system operational and all system components functioning efficiently and effectively; maintaining all regulatory compliance; communicating effectively with the public; and protecting the system from disasters and responding to emergencies.
Quote Process
Tell us your water source (or get a FREE basic water analysis).
Tell us the size of your family or water demand.
We give you a price quote right on the spot.*
*Quotes on larger projects may take up to a week and require additional laboratory testing.
Free Basic Water Analysis
Bring in a one pint sample of your water in a sealed glass container filled to the rim so as to keep air out. The basic analysis tests for Hardness, Alkalinity, Total Dissolved Solids, Iron, Chlorides, and pH. For your convenience, we will happily come out to the location and test your water, however, fuel surcharges will apply.
Water Club 35¢/gal
Self-service drinking water and jugs.
Purchase a prepaid Water Card and save 10%!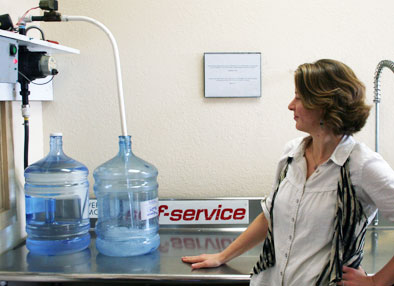 New Water Club members receive a 10-pound bag of ice FREE.
Bulk Water 12¢/gal
Non-potable, de-ionized, reverse osmosis water ready for industrial use.
Our on-site reserves can supply tanker trucks with up to 11,000 gallons or 260 barrels per visit.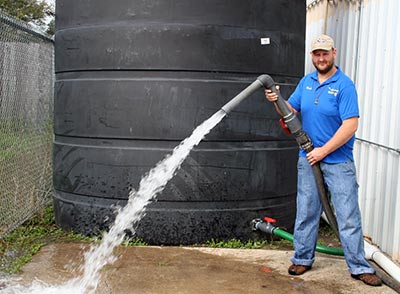 Charity
We donate water and ice to non-governmental and non-political entities such as Boy Scouts, Girl Scouts, school outings, church groups for youth, and other non-profit organizations.
We also donate 30-gallon Water Club Memberships for auctions, raffles, or other fundraisers for these organizations. Bring clean ice chests ready for ice or clean bottles for water for your special event.
The ice is gourmet crystal clear quality made from our purified drinking water. We are proud to be able to do this. It is our way of supporting the youth of this area.